It's the weekend after a sunkissed Bank holiday in the big smoke; the New York homie Jeru The Damaja already ripped mic midweek. It's Friday night and my Philly famette Bahamadia is headling the legendary Jazz Cafe in Camden Town. I've been familiar with her superlative spit game from working in the record shop in the 90s and her time working with Detroit's very own Dilla.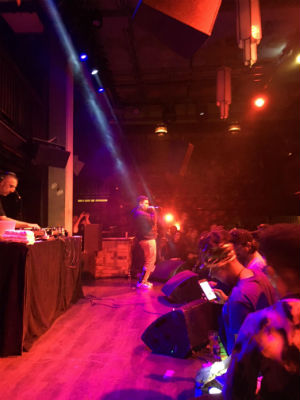 The venue is packed solid from early and warm up support duties are from Cali beatmaker and rapper, Shunaji. The enthused audience gave Sunaji a raptourous response for her talent and performance.
DJ Eclipse from the legendary Rock Steady Crew takes centre stage with precision beat juggling and crowd hyping. Dressed in authentic B Girl attire, Queen Bahamadia arrives and starts rocking mic to thunderous cheers.. Running through a catalogue spanning two decades of both major label and independent releases, she effortlessly embraces the art of story telling, caressing the mic and changing tempos like a seasoned vet. In a sea of animated faces, we lock eyes and of course being fam I get my obligatory 'shout out' !
Click image below to see Bahamadia rockin mic 🎤
From her spittin 'off top' freestyles to classic hits like 'Wordplay' and her 'New Forms' collab with Roni Size, Bahamadia and DJ Eclipse showcase the authentic facets of Hip Hop culture. With imminent new music coming… we wish Bahamadia another two decades of success and touring !!
Socials :-
@Bahamadia
@ItsDjEclipse
@Thadboogie