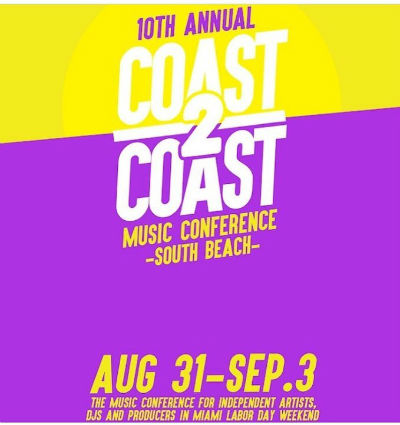 …so once again we've just celebrated the Notting Hill Carnival in London and it's approaching Labor Day  holiday weekend in the states. Last year's Coast2Coast music conference in Miami was intense and this years event is on an even grander scale. It's the 10th year celebration of the now seasoned and established Hip Hop networking event.
Rap artists congregate en mass to Miami Beach after winning their respective regional battle. This year I've met artists from Australia, Europe and a lot of America, the grand prize being $50,000 and distribution via Coast2Coast. The first two days are rap heats to have the shortlist for the FINAL !
A plethora of urban music personnel on panel attendance, music managers, major label a&r's from both records and publishing and social media and PR guru's.
Click the image below to see full list of panelists :-
The first place winner and the recipient of $50,000 was John Streetz from Philly.
Click image below to 👀 :-
@djhardhitta
@mogulstatus
@majorplayersmusicglobal
@swede808mafia
@johnstreetz_610
@rockwildermusic
@yougotgrant
@lilfatsc2c
@nickhiersche
@weworking
@jizockk
@rapjuggernaut
@dannymixtape
@coast2coastlive
Salute all the @coast2coastlive judges in 2018 and we welome the process of finding hot new rappers and doing it all again for next year's FINAL !
Click image below to 👀 :-